McCoy College Ambassadors: Building Leaders
Representing McCoy College with Dedication
By Maya Hicks
Staff Writer, Marketing and Communications
McCoy College of Business
---
The McCoy College Ambassadors play a pivotal role in the McCoy College of Business culture and exposure to the Texas State University community.
These students comprise a prestigious organization that shows great academic achievement and professionalism, according to their president, senior marketing major Ali Williams. They are the face of McCoy College and a helping hand for many students, especially freshmen.
Williams has thoroughly enjoyed being part of what he calls a "smart and supportive" group of people who share similar goals and aspirations.
"They're just an awesome group of people to be around," said Williams. "It's such a blessing to be around people that have the same interests as you."
The McCoy College Ambassadors (MCA) participate in a variety of events on campus including Bobcat Day, Bobcat Build, and the McCoy Welcome Celebration in order to raise awareness about the business college and all the opportunities it can offer students, as well as volunteering in the San Marcos community.
"We help [students] by pouring them into different workshops and helping them learn more about the school and its different opportunities," said Williams. "We are just like the front liners in a way."
MCA Vice President of Internal Affairs, Matthew Applewhite, says his favorite thing about the organization is the people that he meets.
"I've met a good amount of people and learned a lot at McCoy and I love showing what opportunities McCoy College Ambassadors can bring to them," said Applewhite. "We represent McCoy College through leadership and dedication. We're building leaders for Texas."
For the members specifically, being an ambassador opens doors and exposes them to a network of students, teachers, and professionals in their prospective fields.
"It opens up a lot, honestly," said Williams. "[You're] getting to work with the dean himself and other higher ups…making connections on LinkedIn, and getting access to interviews for internships and things like that."
One opportunity being afforded to them this semester is a Peer Mentoring Initiative offered by McCoy's Building Supply. During the duration of this program, the McCoy College Ambassadors will have opportunities to shadow and engage in a series of workshops with mentors from the McCoy's Building Supply company over a six-week period.
"It's an amazing opportunity because it's very important to be connected with people that have been in the business world for so long," said Williams. "They have the knowledge that they can pass down to someone, and then I can also pass it down to someone else."
As the academic year continues, the ambassadors will host a variety of events and maintain their role in the McCoy College culture, while trying to fill in their ranks for the next semester. The agenda for the semester includes Bobcat Build, Gaillardia Fest, family nights, and guest speakers from companies like Charles Schwab.
With 11 seniors this semester, they look forward to bringing in fresh faces and building a new generation of Texas leaders, while continuing to create exposure for the McCoy College of Business.
"One of the best ways to succeed in college is to get involved somewhere," said Applewhite. "Whether it's a chess club or Nintendo Switch club or something like student government, it's important to get involved. There's so many clubs that we offer here and to see students not take advantage of that is disappointing. So if you're looking to succeed in college, ask about the McCoy Ambassadors." ✯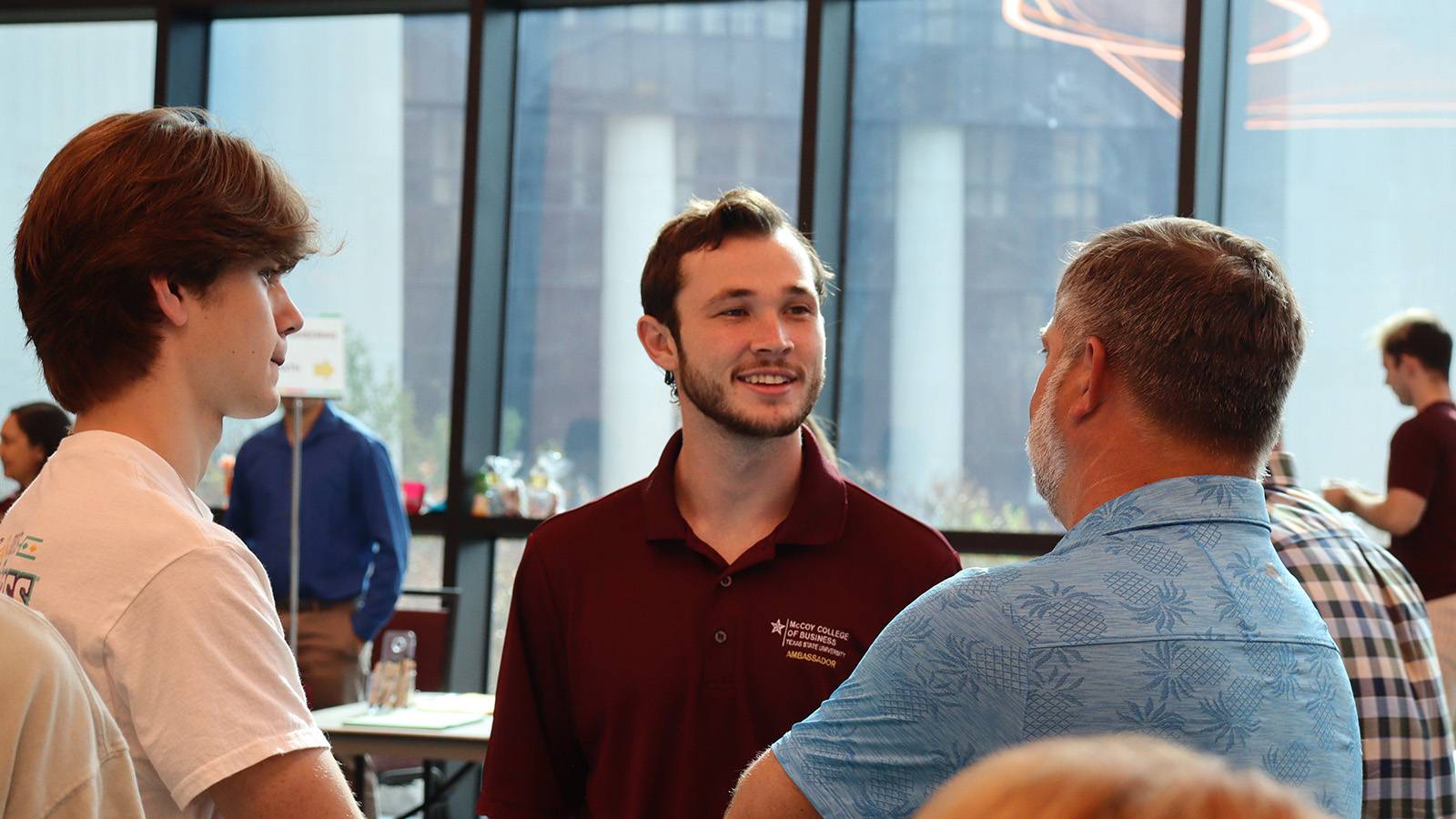 Andrew Gryce representing McCoy College by speaking with a prospective student and their parent at Bobcat Day. Photo by Ali Williams.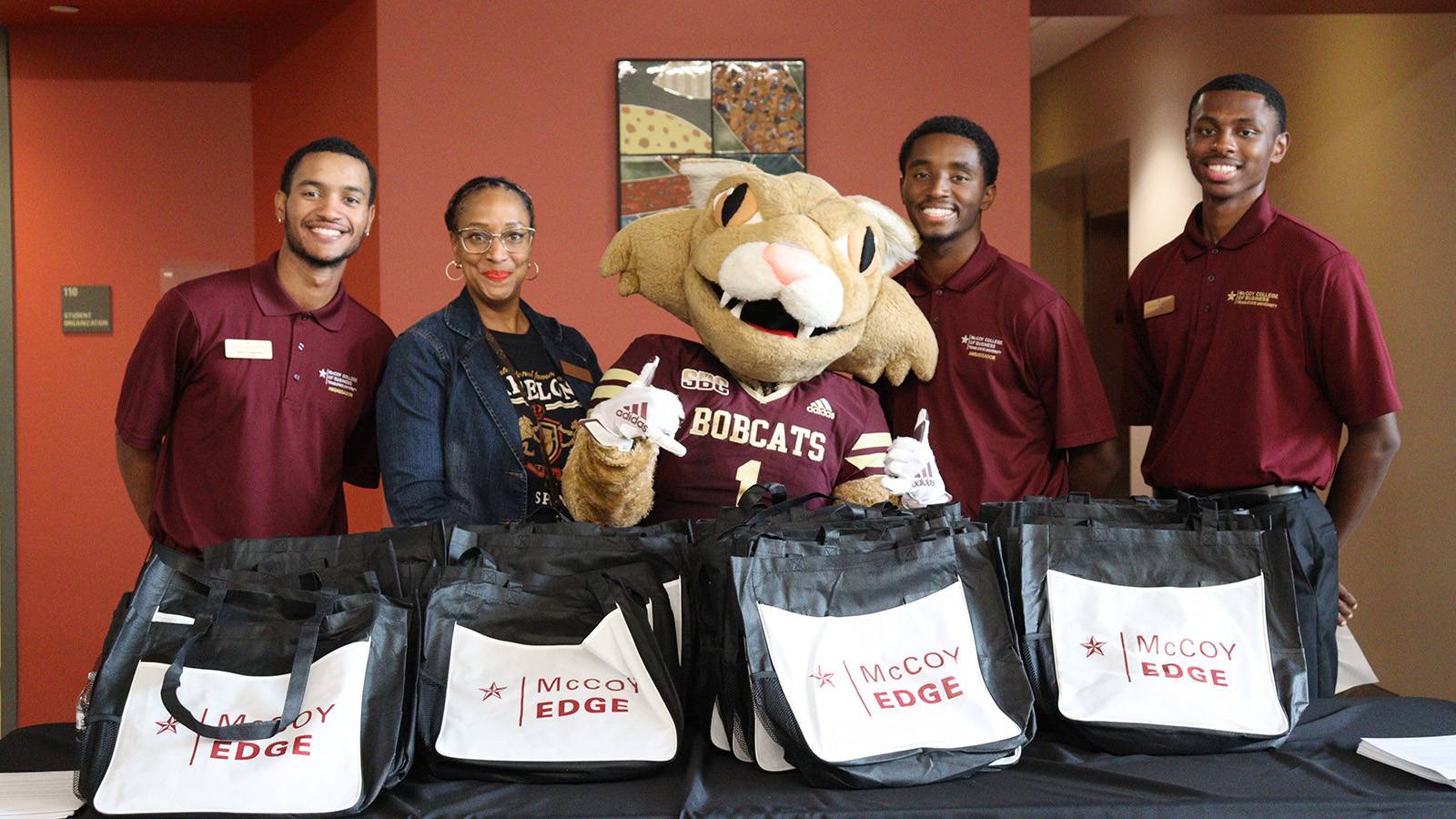 Matthew Applewhite, Dr. Matari Gunter, Jaylin Glover, and Ali Williams with Boko the Bobcat at the McCoy Welcome Celebration of Fall 2022. Photo by Eleonor Pruitt.
For more information, email Twister Marquiss, manager of marketing and communications for the McCoy College of Business, at twister@txstate.edu.
About the McCoy College of Business
Established in 1970, Texas State's business school officially became the McCoy College of Business in 2004 following a donation of $20 million by Emmett and Miriam McCoy. The college, which offers classes in both San Marcos and Round Rock, is accredited by AACSB in both business and accounting, and has graduated nearly 42,000 alumni.
Marketing and Communications
McCoy Hall 532
Texas State University
601 University Drive
San Marcos, TX 78666
512.245.2990